Alumni Career Pathways
All history is storytelling. From the narratives written to the relationships uncovered, historians put into prose the tangible events of our past. Just like the historical eras, people, or events that make up most academic pursuits, historians themselves have stories. In these stories are buried important lessons that guide future scholars through the mentally rigorous and physically stressing processes of obtaining a degree. With over 1880 alumni, every historian's story provides a different perspective on how to use a Doctoral, Master's, or Bachelor's degree to find successful careers. Using these alumni snapshots and highlights, current students can envision their own career pathways, understand the necessary skills, how to build those skills, and how to function in a competitive job market. This page combined with the resources page provides the necessary information for students to design their own career goals and to plan for their future, academic or otherwise.
This page will be frequently updated, so check back regularly to see new alumni snapshots of success and opportunity!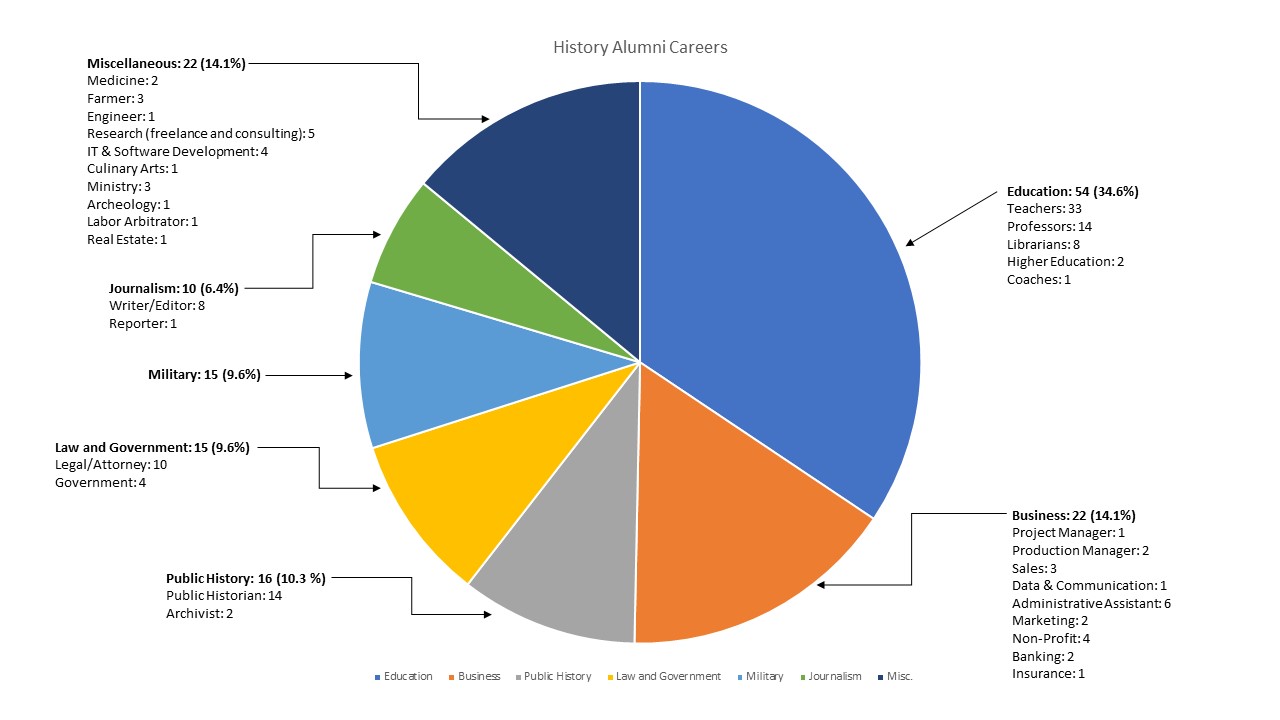 This pie chart reflects the data collected from 136 alumni respondents about their career placement and journey. Many of our alumni have held several occupations. While a snapshot of the many more alumni from the History department, this chart helps provide a visual of the career diversity that a History degree can provide. This will be updated as more information from alumni is made available.
Interested in sharing your story? Fill out the survey below and email Grace at gtomasi@iastate.edu!
Why ISU?
"I decided to attend Iowa State because I wanted to be a high school history teacher and wanted to pursue a PhD in History. I liked the fact that the RATE program had a master's to doctorate track."
"I actually came to ISU as a Biology/Pre-Vet major, but switched to History after the first semester. Best choice I ever made! I chose this campus because it is large with lots of opportunities, however still felt like a community. And ISU's campus is stunning!"
"I chose Iowa State because of the people. I felt that the History Department at Iowa State was a welcoming group of people, and were able to help me fit in as a student, but also as an individual at a large university."
"I grew up with the legacy of Iowa State as many of my family members attended the university. Loved and still love being a Cyclone."
"Iowa State is the premier Agriculture school in the world. If you want to feed the world, you go to ISU."
"My dad is a carpenter, so I grew up watching him build and repair homes, which inspired my interest in architecture. When I started researching architecture schools in the Midwest during my junior year of high school, Iowa State topped every list. But I never felt truly comfortable, so I switched my major to History and Political Science and considered transferring schools. Ultimately, I knew that the opportunities, friendships, and professors I had at Iowa State were too good to leave. I've never regretted the decision to stay."
Why history?
"I chose history for both my BA degree because of my high school history teacher who made me love the subject. I continued with history for my MA because of my undergraduate mentor who helped me to see all the potential I had."
"History is full of stories about how people tried things in the past and where that got them. By understanding how we got where we are, we have a better chance at creating a better future."
"History is a subject which is constantly evolving. The more you know the more you don't know and what an exciting adventure that makes life."
"History has always been my passion rather than a career. I felt early in life that going to college should be for one's interest. My interest in history has driven me my entire life to explore other cultures and learn about people, places and events. My MBA may have paid for my lifestyle but history was the spark that made my life interesting."
"I chose history because of my passion for travel, historic sites, museums, architecture, and cultures."
"As a first generation American, my mother came from Czechoslovakia and my father from Roumania, I wanted to know more about the history contributed to my parents migrating to the United States prior to World War II."
"History is dynamic and exciting as everyone has their own side to the story being told, and while we can look at events and think well this is how it has been taught to us, once we uncover certain bias that may exist in our own experiences with History a whole new ideology can exist. To me that is exciting and more than the typical History is so boring statement."
"I decided to choose History for my degree, because I knew I wanted to be a social studies teacher, and I had always had a strong interest in understanding historical events, and being able to connect them to contemporary events."
Preparing for career
"I'm really glad that I had my history degree AND my philosophy degree. My time as a student at ISU really did  prepare me well for my career and I'm really lucky that I had some great professors to guide me along the way."
"My professors at ISU had high expectations and as a result I have high expectations for my students. I know the value of hard work and leaving no stone unturned."
"My MA in History from Iowa State taught me how to conduct historical research, effectively utilize archival sources, draw informed conclusions and convey them compellingly."
"My degree in history prepared me to conduct research using primary source materials, be inquisitive, and help connect others to history. Everyday I use these skill sets to illuminate the past and establish a vision for the future of University Museums."
"Both advanced reading and writing skills are crucial to the legal field, and I use both every single day. I honed these skills through my study of history. The ability to interpret and apply case law is also similar to the method of primary source research and crafting an idea or thesis regarding historical events."
"My current role is a project management role for an enterprise resource planning system. The majority of the role thus far has centered on investigating and assessing current state business practices and translating them into a new, optimal future state. History has taught me to critically assess the status quo in order to evolve and improve the future."
"While I don't recall learning much in the way of anatomy in history courses, the critical thinking required of historical analysis served me well in medical school, residency, and now as a faculty member."
"My history degree taught me how to do research, how to find the facts I need, and how to clearly put an argument based on those facts into writing. This would have served me well in any field and has been invaluable in the technology industry."
"My knowledge of history gave me an advantage in dealing with the locals while being deployed in Iraq and Afghanistan. It also helped shape the training I conducted with my soldiers and officers prior to deployments.  Understanding why people act the way they do and why they think the way they do gives you the chance to get things right the first time when overseas."
Advice to students
"Work hard and get to know the library. Take as many history classes as possible because it help you learn discipline and be able to place world events of now in the proper context."
"We learn from the past to make decisions for today and predict the future. If you do not study and learn from the past, you are quite sure to be unhappy with the future."
"Discover your passions and find a way to enjoy them."
"Internships! Begin trying to build your portfolio in your freshman year, even if it means volunteering. There are numerous internship opportunities out there, but you may have to think outside the box or even outside your field of interest."
"Your professors are really there to help you. If you take the second to introduce yourself to your professors and stop in during their office hours, it can really make a difference. Build connections early."
"Concentrate on looking for work where your History degree will complement and support what you are doing. It can give you an edge because not everyone understands deep-diving into culture, demographics, history, and society can assist greatly in solving current problems."