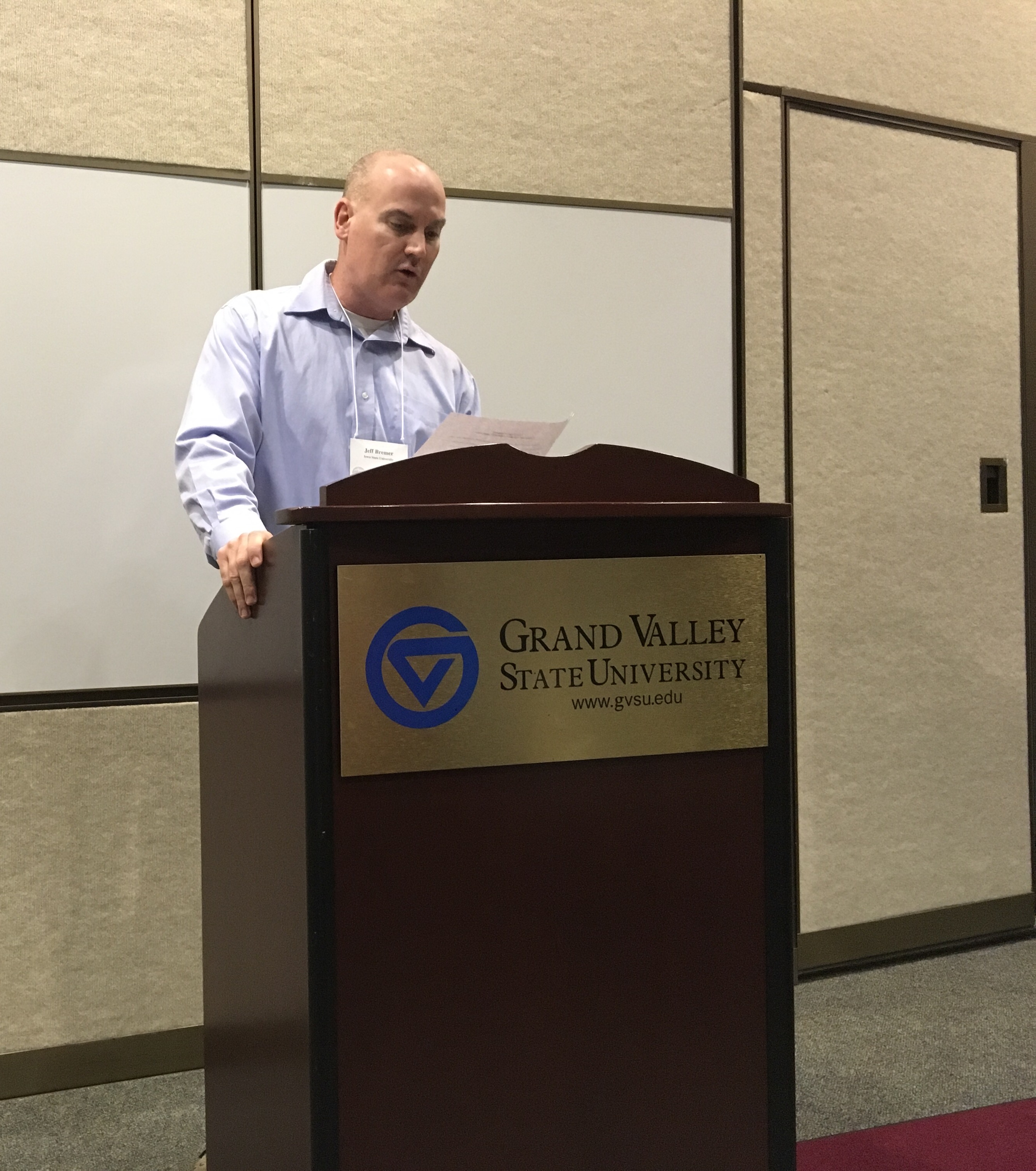 This month we catch up with Iowa State historians who attended the concurrent meetings of the Agricultural History Society and the Midwestern History Association.
The ISU History doctoral degree is in Rural, Agricultural, Technological, and Environmental (RATE) History and so, as you would expect, we are regulars at the annual conference of the Agricultural History Society. This year's meeting, held in Grand Rapids at the beginning of June, was exceptional even by our standards for the sheer number and quality of presentations from Iowa State historians.
Two faculty members and five graduate students (including one recently admitted to the program) gave talks. From the faculty, Jeff Bremer presented "'I Never Had a Childhood': Children and Agriculture in Mid-Nineteenth-Century Iowa," and Pamela Riney-Kehrberg spoke on the topic of "Farm Crisis, Teen Edition: Agricultural and Rural Identity in 1980s Iowa."
The graduate students who gave talks were Wayne Duerkes ("Early Settlement in DeKalb County,1833-1852: The Benefits of Early Arrival"), Brandon Duxbury ("Searching for the Best Agricultural Land: A GIS Analysis"), Maggie Weber, who participated in a roundtable on the book Farmers Helping Farmers, and Kelly Wenig ("Who is Calvin Fletcher? A Lawyer, a Banker, and a Farmer Walk into a Western City in 1822").
Also presenting was Colton Adkisson, who joins us from Arkansas State in August; he spoke on the topic of "Snags, Sawyers, and Shifting Opinion: The Usage and Perception of Snagboats and Improvement on the Arkansas River from 1800-1860."
Meeting in conjunction with Ag History was the Midwestern History Association, where ISU graduate student Brandon Duxbury did double-duty by presenting his paper, "Regional and Rural Identities in the Midwest."
To cap it off, our very own Pamela Riney-Kehrberg, former department chair and the author of several well-received monographs on growing up in the rural Midwest, earned recognition as a Fellow of the Agricultural History Society.
Also on the program at the Agricultural History Society meeting were several alumni of the department's graduate programs. These included Adam Ebert (Mount Mercy University), Sara Egge (Centre College), Anne Effland (USDA), Joe Anderson (Mount Royal University), Valerie Grim (Indiana University), and Megan Birk (University of Texas, Rio Grande Valley).